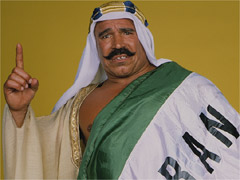 Ever wish you could download a video from YouTube? A useful tool I came across: iTube lets you plug in a URL of a YouTube page and automatically download the video to your hard drive as an MPEG.
I never knew Steve Irwin was so loved and respected. So loved that even the Stingray Wikipedia entry has been held hostage by rabid Irwin worshippers. And so the information war begins…
Finally, watch Iran's Iron Sheik go nuts– and be glad he's on our side now!